שמעון ראובן
                                  Shimon REUBEN
                                    שמעון ראובן
             PIANO  JAZZ SOLO -  COMPOSITEUR - ECRIVAIN
Jerusalem mars 2017
Jerusalem avril 2016
Jerusalem juin 2015
Jerusalem mars 2015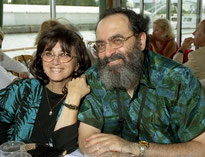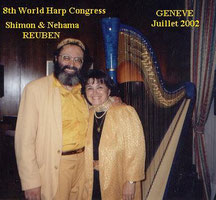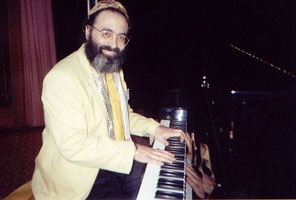 שמעון ראובן
                                          Shimon REUBEN
Shimon REUBEN is the 1st son of Eliyahou & Bellida  from CASABLANCA.
The father of Shimon REUBEN: Eliyahou (1910-1996) was Composer, Oud artist player in Oriental Oud and Orchestra Conductor of the King Mohammed V of Marocco.
Shimon REUBEN is pianist since the age of 6, he showed improvisation  talent  at a very early age and turned towards jazz piano after a Premier Prix of National Conservatoire in classical piano, keyboard & chamber music.
Young pianist, he played solo piano Concertos with his father's Orchestra.
He received also influences of Erroll GARNER and Keith JARRETT.
Shimon REUBEN played mostly of his jazz piano career in Paris, Europe & USA and now in ISRAEL.
Shimon REUBEN is also writer in Torah & Philosophy and studied at the Sorbonne Paris University.
Shimon REUBEN  dedicates himself to musical composition and is member of the SACEM as a composer .
The pianistic style of Shimon REUBEN, with 40 years of jazz concerts experience with jazzmen, gathers in his solos rythms, extraordinary harmonies, artistic fusion, strong colors, the whole united by a spiritual & philosophical inspiration of the land and the heritage of Israël.
                    Shimon REUBEN , with his wife
                     the concertist virtuose harpist :
           Nehama REUBEN, specialised in Hebraic music.
                                       Shimon REUBEN recorded 8 CD's :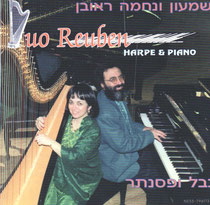 • CD "DUO REUBEN", piano & harp,
played for the European Symposium of Amsterdam in 1995.
Référence 796173, distribution Ness Music France.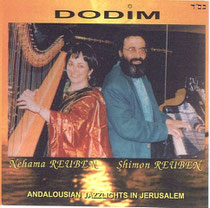 • CD "DODIM", Andalousian Jazzlights in Jerusalem,
Nehama & Shimon REUBEN, piano & harp,1999,
played in 1st Mundial  Performance Concert during the Prague 7th World Harp Congress, July 1999.
Référence 996182, Distribution Ness Music France.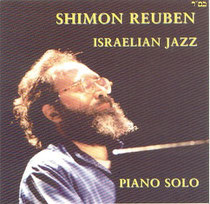 CD "ISRAELIAN JAZZ", piano jazz solo,
Compositions of Shimon Reuben,
Geneva Mundial  Festival 2002.
Référence 206186, Distribution Ness Music France.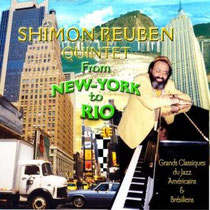 • CD "FROM NEW-YORK TO RIO",
Shimon REUBEN Quintet,
les grands classiques du jazz américain  et brésilien,
Festival d'Arles 2002.
Référence 226203, Distribution Ness Music France.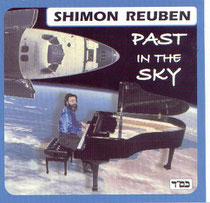 •CD "PAST IN THE SKY", 2005,
piano jazz solo,
11 compositions de Shimon REUBEN dédiées à des amis et personnalités.
Référence 246217, Distribution Ness Music France.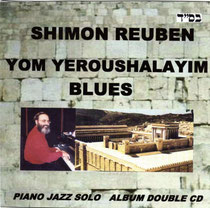 . CD " YOM YEROUSHALAYIM BLUES" 2008,
DOUBLE ALBUM CD
piano jazz solo
25 compositions jazz piano solo de Shimon REUBEN, en l'honneur de JERUSALEM  .  
Référence 28260 NS 67 Distribution Ness Music France.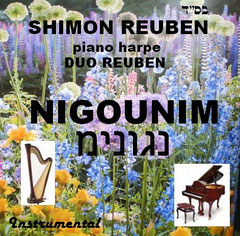 NIGOUNIM 
Sorti en JANVIER 2011 
13 Compositions originales de Shimon REUBEN
pour piano et harpe, qui magnifient en musique les 12 mois de l'année juive.
Piano: Shimon REUBEN
Harpe: Nehama REUBEN
Le DUO REUBEN, dans ce 8ème CD ouvre les portes de la joie et de l'espoir.
Distribution
NESS MUSIC FRANCE.
http://www.ness-music.com/instrumental/nigounim-details-1654.html
                         Tous droits réservés SACEM  ©  
                                              Made in France. PARIS. 
                                   ©  Shimon REUBEN
                          CDs en vente sur www.fnac.com
                           Distribution / NESS MUSIC FRANCE
                              35 rue PETIT. 75019 PARIS . FRANCE
                                    TEL 33 (0) 1 42 45 10 30